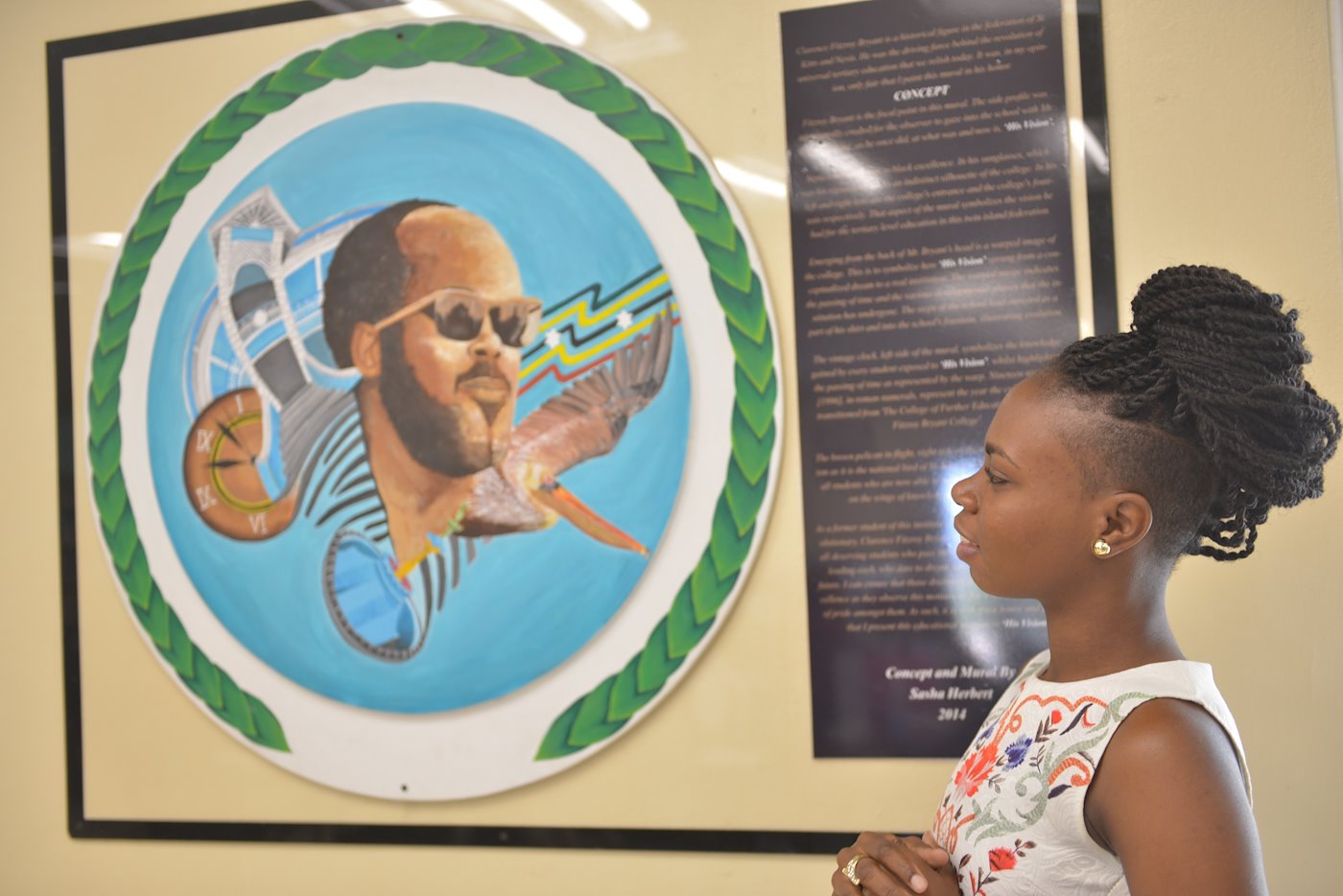 (ZIZ News) — The Clarence Fitzroy Bryant College is now able to display a hand painted portrait of the late Clarence Fitzroy Bryant, after whom the school is named.
This is due to the vision of past student, now professional local artist Sasha Herbert.
"When I gave myself the challenge to do a mural, it was for my art I.A. I looked around the college and started to think 'what does the college need in a painting?' and when I looked around I realized that there was a lack of visual representation of Bryant himself so I thought why not make him the focus of the mural because believe it or not the students here really don't know who Bryant is, how he looks, or anything about him. So I thought make him the focal point of this mural."
She said, "In making him the focal point, I gave some background on the college and his vision, the title of the piece, for the tertiary level education in St. Kitts. So that's what I did; it's pretty much an educational monument more than a painting and I encourage the students to digest the painting in parts, step back, look at it as a whole, come up with your own interpretations and then see what you have learned, if you got it, or you realise that you needed to know."
The local artist thanked those who supported her idea.
"I have to thank Dr. Daley most and foremost. When I came to him with the idea, he quickly jumped on board. He had no hesitation. The mural was at the expense of the college; they bought the board and the paint. So I have to thank him and the staff for mounting it. My former art and design teachers Ms. Liburd and Mr. Richards; if it wasn't for them i don't think I would have ended with this piece. For weeks I had puzzle pieces in my head. I didn't know what to put on paper and they helped me tremendously in coming up with the concept so I have to thank them."
Sasha Herbert painted the Clarence Fitzroy Bryant College's mural in 2014. It is currently mounted in the college's library.
ZIZ News. (2016, March 12). CFBC Mural. Retrieved from https://zizonline.com/cfbc-mural/